Emilio Crixell - Bandleader, Guitarist, Vocals & Songwriter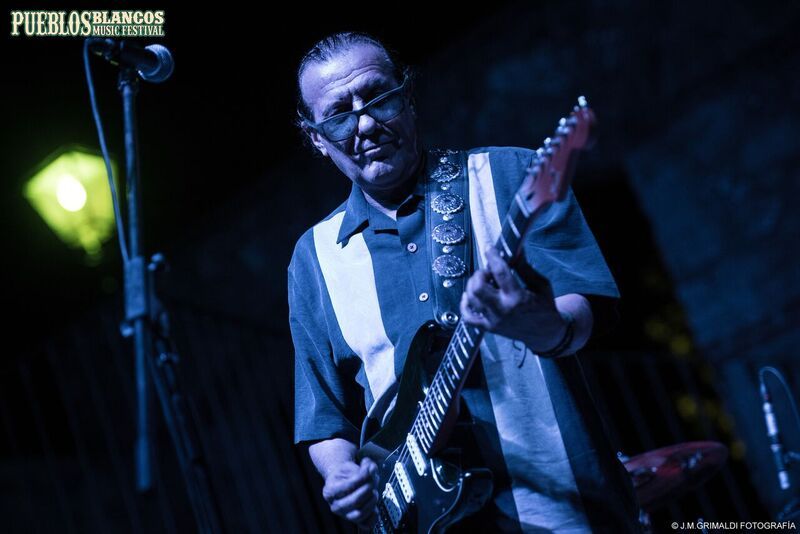 Emilio Crixell Jr. was born on April 1st, 1954 in Brownsville, Texas into a home filled with music. His music roots formed as he grew up listening to his mother's piano playing while also being heavily influenced by his father's deep appreciation for Big Band, Jazz, Boleros and traditional Mexican music. At age 13, Emilio started his music career on the bass guitar playing Blues, R&R and Soul in local bands. "Growing up in South Texas you had to be able to play all kinds of music, including Blues, Rock & Roll, Soul, Country and Mexican music", Emilio would say, explaining his immense musical diversity.
At age 22 he moved to Austin, Tx with his band,The Ezra Brooks Band, where he began to contribute to its projects as a writer. The Ezra Brooks Band toured the southern states extensively allowing Emilio to perform his original music of high powered Rock & Roll before deciding to relocate in search of new music to play. In 1978 he moved to California where he continued playing and songwriting. He broke into the punk rock scene where he helped form the band Bad Posture and shared the stage with The Dead Kennedys, Social Distortion, Flipper, Circle Jerks and the Beastie Boys. Later on Bad Posture relocated to New York and recorded an album there, before moving back to San Francisco and disbanding. His next project A3I (Any 3 Initials) was a collaboration with Will Shatter, singer/songwriter of Flipper. In a short period of time, A3I played locally, went on a tour and recorded their album "Ruins of America" at Tom Mallon's studio in San Francisco before Shatter's untimely death. Shatter's death and the birth of his daughter Jolene were turning points in Emilio's personal life and musical career, prompting a change from bass to guitar. Emilio began fronting his projects - taking the lead position on stage as well as in writing.
In 1989 Emilio formed the Texas Manglers playing Blues and Tex Mex originals, while opening for acts including Delbert McClinton, Malo, C.J Chenier and Doug Sahm, among others. The band performed in and around the Bay Area for about ten years before disbanding when members relocated. An offshoot of the band still gets together once a year in Madison, WI with original drummer John Surrell, guitarist Tom Ribbecke, bassist Bruce Anderson and Tall Paul Sabel on harmonica.
In 2005 Emilio recorded his first solo CD "One Roadhouse Away" a compilation of Blues originals with Garth Webber at Red Rooster Studios in Berkeley, California. Shortly after its release tragedy struck again when Emilio's mother Elsa became ill and passed away. The death of his mother along with the fact that Emilio's second daughter, Tish, was born with a congenital heart disease in 1997, caused him to perform less than usual. "It was a time of great personal challenge, but also a time of growth. I'm a better person today for it. Though I don't know if I would've made it without knowing my music was always there."
In 2006 Emilio moved back to Texas to help with the care of his ailing father whom he credits for his love of music. Emilio, in his usual manner, hit the ground running musically back in Texas. Besides pairing with Jazz saxophonist Tomas Ramirez, who had also recently relocated from Austin to South Texas, he was asked to tour with Blues legend Guitar Shorty. Although limited due to family responsibilities at the time, Emilio went on the road with Shorty for a few months before returning to work with Ramirez. Ramirez and Emilio started their new band Los Bluzanos. With Emilio's Blues influence and Ramirez's heavy Jazz chops, the band was a jazz/blues hybrid that started playing and growing an audience in a region known more for Tejano, Country and contemporary tastes in music. Emilio says, "I've always believed if the music is good, I don't care where you are, the people will find you." Los Bluzanos played local bars, cantinas and festivals around South Texas for three years until Ramirez left the band to relocate. With Ramirez's departure Emilio was still fronting the band with a more traditional blues direction and line up.
In 2010 his songwriting well had come up dry. His yearning to create didn't though, and he recorded his second CD "The Blues Had A Baby…" a collection of classic Rock songs that he rearranged in traditional Blues styles. It was recorded at Smilin' Castle Studios with Rick Del Castillo. The recording sessions went so well Emilio knew that he would have to come back and record original music with Rick.
Los Bluzanos continued to perform, winning over new audiences along the way. With time his South Texas influences started to creep more and more into his music resulting in the performance of a song he had written 20 years earlier for the Manglers, titled "Movimiento". Then one night in 2015 Emilio began working on a new song, called "She Moves You" that was going in a whole different direction. Always a huge fan of Curtis Mayfield, the song was influenced by Mayfield's 70's songs with Latin percussions. The song was received well by bassist Charlie Harrison and guitarist Albert Besteiro, who encouraged him to write new songs in this vein. Crixell went on to write new tunes drawing from a vast array of influences ranging from Santana, El Chicano to the Staple Singers. Around this time, percussionist Joe Pino was available to do gigs and the timing couldn't have proven better. The band started evolving rather quickly and was working on new songs and a new musical highway to drive on. In 2016 they started recording again at Smilin' Castle Studios with now SXSW award winner Rick Del Castillo. The first decision made, was to have Rick produce the CD. Austin legend Leeann Atherton was recruited to add vocals to some of the tracks as well as Alex Ruiz (of Del Castillo) and Joe Perez and his wife Rosa Canales Perez, who contributed one of her compositions to the project. The result was the CD titled "Music People", which Emilio categorizes as Latin Soul and Blues. With the new music and direction the decision was then made to change the name of the band to Emilio Crixell & Border Soul.
Emilio Crixell& Border Soul brings Emilio's music full circle to include all of the music he grew up with as well as his experiences as a professional musician across the musical fields of Mexican music, Rock & Roll, Punk, Jazz, Big Band, etc. to evolve into a style that is upbeat, entertaining, and foot-tapping. Emilio Crixell and Border Soul have been playing South Texas as well as Austin and were asked to perform at The Pueblos Blancos Music Festival in Spain in 2017. They played the dates in Spain and were joined by Leeann Atherton. Currently the band is booking more tour dates and look forward to writing and performing more music for years to come
Emilio Crixell & Border Soul - Music People - The CD
Music People, the new recording by Emilio Crixell & Border Soul, is a unique and eclectic blend of 70's R&B, Latin Soul and the music of South Texas. Drawing from such diversified influences as Curtis Mayfield, Carlos Santana, The Staple Singers and the early Latin Soul movement, the band brings it together with their own Blues and South Texas roots to create their original music. Music People was produced and recorded by SXSW award winner, Rick Del Castillo at Smilin' Castle Studios. Special attention was given to capture the cool, 70's retro sound that the music called for and that you hear on the recording.
Although Emilio Crixell is a native of Brownsville, Texas, his longevity in the San Francisco music scene makes him almost a transplant in the South Texas Border Region. The California cruising sound surfaces in the title track of his new CD, Music People. Leading with vocals and guitar, Emilio infuses the band with the spirit that gives them their name, Border Soul. The album is a compilation of his original songs.
Members of Border Soul include: Emilio Crixell on guitar and vocals, Charlie Harrison on bass, Albert Besteiro on guitar, Carlo Tamayo on drums, Joe Pino on congas and Mike Ramírez on saxophone. Additional musicians: Santiago Castillo plays diatonic accordion and Iram Reyes on trumpet.
In this album, Emilio Crixell bares his soul marking a retrospective return from the West Coast to his native turf among the music people of the Texas-Mexican Border.
The band is joined by some incredibly talented featured artists, including Leeann Atherton, Alex Ruiz, Rick Del Castillo and Rosa Canales Perez. Leeann Atherton contributes her soulful vocals to "A Face In The Crowd" and "Oh, Beautiful Day" and background vocals throughout the album. Alex Ruiz and Rick Del Castillo weigh in on vocals and guitar on the Rock/Cumbia "Movimiento." Rosa Canales Perez performs her own composition with the band on the last track "Prende Una Vela."
Taking to mind the span of musical geography covered on this recording, E.C. & Border Soul provide a unique slice of Americana and demonstrate that in music there are no borders! Borrowing from soul styles ranging from California's Latin Soul to the Soul styles from Detroit, Memphis and Sheffield, Alabama... the band manages to bring their own South Texas grooves to make it a different experience.